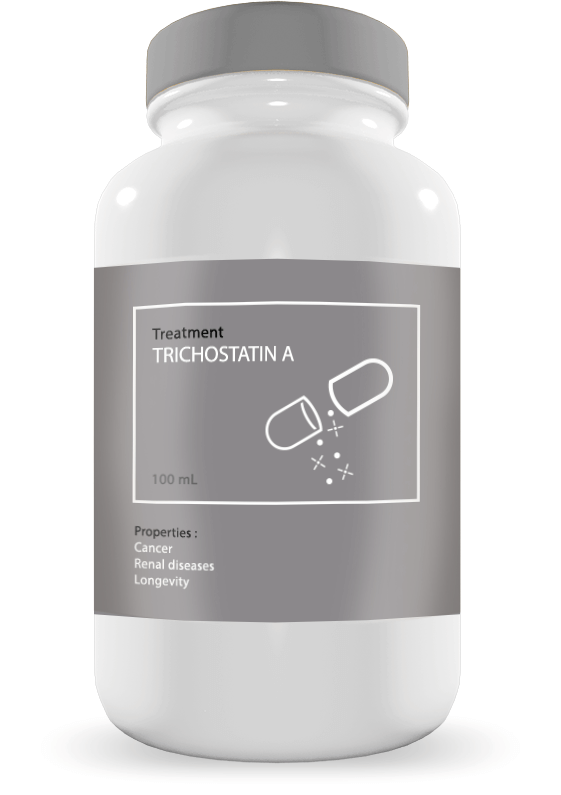 Trichostatin A (TSA) is an antibiotic and antifungal isolated from small bacteria, Streptomyces. It is a specific inhibitor of certain classes of enzymes, histone deacetylases (HDAC), having a major role in the preservation and folding of our DNA. The action of trichostatin A on HDAC causes chromatin condensation and represses gene transcription. In cancer cells, inhibition of HDACs by trichostatin A can cause cell death, cell growth arrest or induce cell differentiation. Today, trichostatin is used in research and proves its efficacy in vitro and in vivo, but it is not yet used in therapy in humans.
Interest
Efficiency
Availability
Many anti-aging applications
Trichostatin A as a promising anti-tumor agent
HDAC inhibitors are new and highly studied anti-tumor agents. They influence cancer cells by promoting cell death, apoptosis, cell cycle arrest and autophagy, primarily by restoring transcription of tumor suppressor genes or activating important cell regulatory pathways. This molecule has demonstrated its efficacy in several studies conducted on different types of cancer (glioblastoma, breast cancer, pancreatic cancer, chronic lymphoid leukemia, etc.) for which trichostatin A promoted apoptosis of tumor cells[1, 2, 3, 4]. Its use, coupled with other therapeutic approaches in cancerology, could improve the prognosis of cancer patients.
Beneficial effects on kidney diseases
Trichostatin A has been the subject of numerous publications in which its strong therapeutic potential against several renal diseases is exposed. Treatment with trichostatin A decreases renal fibrosis progression in mice and reduces cyst formation in polycystic renal disease[5]. It also stimulates autophagy in some experimental models of acute renal failure[6]. Finally, it would have beneficial effects on diabetic nephropathies or those associated with HIV.
Neuroprotection
Trichostatin A mediated hyperacetylation is neuroprotective. This molecule could eliminate beta-amyloid proteins from the brain, among others, and can therefore be considered as a potential therapeutic agent in Alzheimer's disease[7].
A molecule that works for longevity
By preventing histone deacetylation, trichostatin A promotes and increases the expression of HSP (Heat Shock Protein) genes that protect cells from various stresses. Trichostatin A has been shown to prolong the life of different Drosophila lines by this mechanism[8]. Another study published in Aging Cell in 2016[9] showed that trichostatin A increased the lifetime of C. elegans by a mechanism mimicking caloric restriction. Trichostatin A therefore has a positive effect on longevity, making it a potential drug candidate for the development of compounds that promote longer healthy life.
Number of publications: over 4000
Availability: not available over the counter, only for scientific research
Route: injection
Dosage: not tested in humans, 0.5 to 10 mg/kg in mice, 50 to 2000 nM in cell cultures
Today, Trichostatin A is a molecule recognized as being active on cellular and animal models against several age-related diseases, but it has never yet been administered to humans. The relevant studies are in the pre-clinical phase, in vitro and in vivo.
There are no data on toxicology and therapeutic doses in humans.
[1] Ju Liu, Yan Li, Fengyun Dong, Liqun Li, Takahiro Masuda, Thaddeus D. Allen, Corrinne G. Lobe. Trichostatin A suppresses lung adenocarcinoma development in Grg1 overexpressing transgenic mice, Biochemical and Biophysical Research Communications 463 (2015) 1230-1236.
[2] David M. Vigushin, Simak Ali, Paul E. Pace, Nina Mirsaidi, Kazuhiro Ito, Ian Adcock, and R. Charles Coombes. Trichostatin A Is a Histone Deacetylase Inhibitor with Potent Antitumor Activity against Breast Cancer in Vivo. Clinical Cancer Research Vol. 7, 971–976, April 2001.
[3] Elisabeth Höring, Oliver Podlech, Björn Silkenstedt, Ioanna Alexandros Rota, Eleni Adamopoulou and Ulrike Naumann. The Histone Deacetylase Inhibitor Trichostatin A Promotes Apoptosis and Antitumor Immunity in Glioblastoma Cells, ANTICANCER RESEARCH 33: 1351-1360 (2013)
[4] Liang Gao,  Xin Sun, Qi Zhang,  Xiaochen Chen, Tongwei Zhao,  Liqing Lu, Jianbin Zhang and Yupeng Hong. Histone deacetylase inhibitor trichostatin A and autophagy inhibitor chloroquine synergistically exert anti-tumor activity in H-ras transformed breast epithelial cells, Molecular Medicine Reports  17: 4345-4350, 2018.
[5] Na Liu and Shougang Zhuang. Treatment of chronic kidney diseases with histone deacetylase inhibitors, Frontiers in Physiology, April 2015, Volume 6, Article 121.
[6] Jing Liu, Man J. Livingston, Guie Dong, Chengyuan Tang, Yunchao Su, Guangyu Wu, Xiao-Ming Yin and Zheng Dong. Histone deacetylase inhibitors protect against cisplatin-induced acute kidney injury by activating autophagy in proximal tubular cells, Liu et al. Cell Death and Disease (2018) 9:322

[7] Wenzhong Yang, Abha Chauhan, Sangita Mehta, Pankaj Mehta, Feng Gu, Ved Chauhan. Trichostatin A increases the levels of plasma gelsolin and amyloid beta-protein in a transgenic mouse model of Alzheimer's disease, Life Sciences 99 (2014) 31–36
[8] Yanmei Zhao, Hui Sun, Jun Lu, Xiaoxue Li, Xia Chen, Dan Tao, Weifeng Huang and Baiqu Huang. Lifespan extension and elevated hsp gene expression in Drosophila caused by histone deacetylase inhibitors, The Journal of Experimental Biology 208, 697-705 Published by The Company of Biologists 2005 doi:10.1242/jeb.01439
[9] Shaun Calvert, Robi Tacutu, Samim Sharifi, Rute Teixeira, Pratul Ghosh and Joao Pedro de Magalhaes. A network pharmacology approach reveals new candidate caloric restriction mimetics in C. elegans, Aging Cell (2016) 15, pp256–266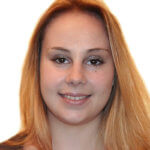 Anne is studying medicine science at the Institute of Pharmaceutical and Biological Science in Lyon and she has graduated with a Bachelor's degree in molecular and cellular biology at the University of Strasbourg.
More about the Long Long Life team
Anne étudie les sciences du médicament à l'Institut des Sciences Pharmaceutiques et Biologiques de Lyon. Elle est titulaire d'une licence en biologie moléculaire et cellulaire de l'Université de Strasbourg.
En savoir plus sur l'équipe de Long Long Life