An aging population
---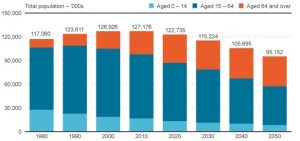 As you may know, the country currently presenting the highest proportion of elderly people is Japan[1]. The astonishing aging of the Japanese population can not only be explained by a dramatically low fertility rate but also by a record-breaking life expectancy.
While living longer is one of the most sought-after objectives in today's society, the example of Japan's large elderly population (including a non negligible proportion of centenarians) showed the problems that could arise with a much longer life expectancy. In fact, based on the country plummeting fertility rates and aging population, a doomsday clock was set by a researcher team from Tohoku University, predicting that the country would go extinct on 16th august 3766.

 Breaking all records
---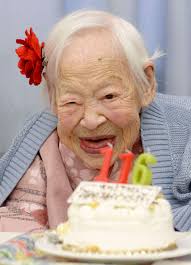 At this October's first week tally, the Japan Welfare ministry recorded 65 692 Japanese citizen over 100 years, with an average of 52 out of 100 000 people surveyed being centenarians. Moreover, the Shimane Prefecture located on Honshu Island is showing the highest figures, peaking at 92.25 centenarians for every 100 000 inhabitants[2].
Since the 1960s, the number of centenarians recorded keeps soaring, going from 10 000 in 1998 to over 60 000 nowadays. Based on September 1st resident registry data, officials found out that females represent over 87.5% of this centenarian population, which stands for 57 525 females against  only 3 797, suggesting that women tends to live a longer and healthier life in Japan. In fact, the oldest Japanese woman, Nabi Tajima, is 116, while Masamitsu Yoshida (the oldest man) is celebrating his 112th birthday.

Long life secrets and future
---
Japan's high percentage of centenarians and overall high life expectancy may be for the most part due to its population's unique way of life and healthy food habits[3]. In addition to this, many major scientific breakthroughs that have occurred over the past decades have continuously been boosting modern medicine possibilities, thus revolutionizing healthcare. Nevertheless, even though life expectancy has kept increasing in the last century, humans reached a physical limit that could be broken with current anti-aging research and progress in NBIC.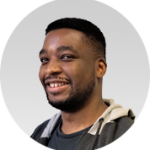 Hans is a process supports engineer after his masters in materials chemistry at the university of Paris-Est Créteil.
More about the Long Long Life team
Hans est aujourd'hui ingénieur support procédés après un master en chimie des matériaux à l'université de Paris Est Créteil.
En savoir plus sur l'équipe de Long Long Life