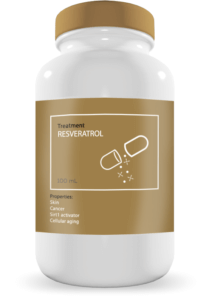 Resveratrol: one molecule, fascinating properties
Resveratrol is a polyphenol notably found in black grapes which was initially noticed for its cardioprotective properties[1] and then for its property to prevent the occurrence and development of cancer in vitro and in vivo[2].It then appeared that resveratrol was a molecule capable of activating the enzyme Sirt1[3] and that, in this way, it extended life expectancy in yeast and various organisms (nematode, fly, fish).
A significant increase in healthy life expectancy was also observed in mice made obese by a diet too rich in calories. This longer life is achieved by reducing the conditions resulting from this diet (reduction in cardiovascular, metabolic, liver damage, etc.). An increase in healthy life expectancy is also observed in non-obese mice[4].
Interest
Efficiency
Availability