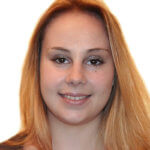 Anne is studying medicine science at the Institute of Pharmaceutical and Biological Science in Lyon and she has graduated with a Bachelor's degree in molecular and cellular biology at the University of Strasbourg.
More about the Long Long Life team
Anne étudie les sciences du médicament à l'Institut des Sciences Pharmaceutiques et Biologiques de Lyon. Elle est titulaire d'une licence en biologie moléculaire et cellulaire de l'Université de Strasbourg.
En savoir plus sur l'équipe de Long Long Life